Christmas in Trinidad
The Christmas season begins early in Trinidad. One hundred days before, you begin to hear carols on the radio and stores bring out their seasonal displays. The malls decorate and shoppers begin to arrive.
Events - 2018
Carols by Candlelight 2nd Dec - Free concert put on by many of Trinidad's famous local artistes on President's Grounds
The Trinidad & Tobago Youth Philharmonic Orchestra - If There is Music There - A Pop concert celebrating the music of the 80's and 90's - 2nd Dec 2018
The Marionnettes Choral 6th - 9th - Once of the top choirs in Trinidad
Sliver Stars Parang & Steel Dec 8th, 15th, and 22nd - Combining Trinidad's Spanish Christmas Music with Steel Pan Music
Lydians Choral 13th-16th Dec - Another of Trinidad's top choirs perform their annual Christmas concert.
SSCA's New Year's Annual GAM & Potluck 1st Jan 2019.
Parang
It is also the time for Parang'. Parang' is the present Trinidadian interpretation of the Spanish word, parranda . Parranda is the action of merrymaking and also refers to the group of carousers who serenade their friends throughout the year.
The Steel Pan Orchestras begin to hold Christmas concerts as well.
Annual Thanksgiving BBQ
The Cruisers Annual Thanksgiving BBQ was held last week at Powerboats. While not exactly a Christmas event is falls within the Trinidad Christmas season. It is a much anticaped event in the cruiser community here in Trinidad. For many cruisers who spend the summer and fall in Trinidad, it marks the last major event before they depart north bound for their Christmas holidays further north in the islands.
The usual Thanksgiving dishes were prepared by the cruisers. The guest of honor being the turkey. Aside from the many and varried dishes prepared by the cruisers it was a chance for the community to get together and be thankful of another year sailing.
2018 YSATT Cookout, Meet and Greet with Government officals, YSATT members and Cruisers, and Christmas Party
YSATT held its anual cookout at powerboats on the 16 of November. Members of YSATT cooked up their specialty dishes for the cruisers. Music was provided by a DJ and a Pan Orchestra the "Oval Teens". Everyone had a great time. There was even a snowball fight when some of the younger (in age or heart) people discovered the excess ice from the drinks made excellent snowballs.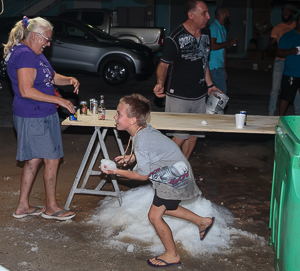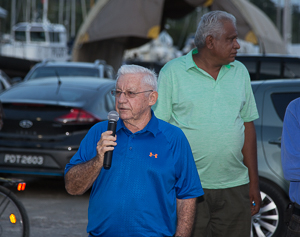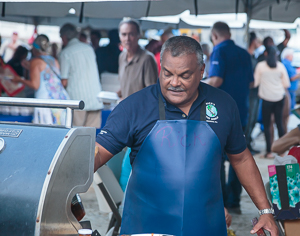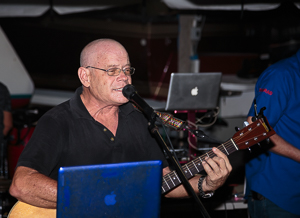 Annual Pan Parang and Pork Fundraiser
Each year the Shell Invaders Steel Orchestra hosts thier "Pan, Parang, and Pork" Fundraiser. This year (2018) it was held on 11 November. The event featured: The Shell Invaders, The Shell Invaders youth Orchestra, Los Alumnos de San Juan, Edwin "Crazy" Ayoung, and Marcia Miranda. The Youth Steel Orchestra was very good and played two sets. The Los Alumnos de San Juan provided traditional Parang music. Marcia Miranda sang and came out to dance with many of the yachties. The Pork BBQ was excellent and filled eveyone up between dances.