Jesse James, Taste of Trini Island Tour and Trini Foods
Jesse James of Members Only Maxi Taxi and Tour Services is our guide for this trip. He has been providing services to the Cruising Community in Trinidad for many years. A number of years ago, he came up with the idea of getting the cruisers out of the marinas in Chaguaramas and introducing them to local foods that Trinidadians eat, and along the way have a lot of fun.
The tour begins before breakfast in Chaguaramas and continues east through Port of Spain to the east coast of Trinidad at Manzanilla Bay. It then turns south and follows the east coast to the town of Mefeking and turning west through the central mountains to intersect the Southern Main Road. Then north to Port of Spain and home. With plenty of stops to gather food, we finished by early evening and consumed 80 or more dishes along the way. That number may seem daunting, but many dishes are just one bite samples. Though, pacing oneself is the order of the day.
In 2015, we persuaded Jesse to do a southern route Taste of Trini. We enjoyed many different foods and scenery that many of us had not seen.
---
A break from Covid-19 quarantine (July 2020)
Trinidad and Tobago have been affected by the Covid-19 virus as has the rest of the world. Cruisers here experienced a quarantine on our boats in April and May and then saw the government gradually open it's economy as it contained the few outbreaks of Covid-19 from persons entering the country. To date most cruisers have stayed close to the marinas only venturing out to get food or supplies and returning quickly home.
So, it was with great enthusiasm that we greeted a chance to get out and sample the local food and see parts of the island that many of us had never seen. Jesse decided to run his famous "Taste of Trini" tour. I have taken the tour many times and enjoyed each one. The tour explores the island and allows us to sample a great number of local "Street Foods" that are a part of Trini diet and culture. This tour was to be a bit different. Rather than explore to the East of the island, we were heading South. And, we were more focused on just getting out and exploring. But, would sample the foods we came across.
The tour started out at nine from Chaguaramas with eight eager cruisers. We sampled our way out of Chaguaramas along the Western Main Road. Such had local treats as: Tomato Choka; Bigan Choka; Sada Roti, Fried Bake with Salt Fish Buljul, Fried Ochre + salad; Potato Pie, Mango Sauce & Chadon Bene sauce, Chennit Smoked herring & Bodi with fried bake Fish Pie.
By the time we reached Port of Spain, it was late morning. We sampled spicy Cow Heel soup, Dhal Puri; and Mother-in-law. The Mother-in-law was particularly spicy, but very good. We washed it down with a bit of pure cane juice.
We turned south from Port of Spain and followed the Southern Main road for a bit before exiting and taking the back roads further south for a bit of sightseeing. Our first stop was at the magnificent 85-foot tall statue of the Hindu god, Lord Hanuman located in the village of Carapichaima. Built according to the Dravidian style of architecture of South India, this is the largest Hanuman murti outside India. This region is largely Hindu and decedent from Indian indentured labor imported to Trinidad to harvest the sugar cane. They settled here and were given land after the period of indentured service was up. Their ancestors still live here.
We continued south on the back roads to a point just south of San Fernando, where we stopped for some well-deserved lunch. The group sampled Saheena and Doubles along with other treats. We continued on south stopping for many local treats. We also had Pepper Roti one of my personal favorites.
We also stopped at a road side stand (very typical of rural Trinidad) for some Pineapple Chow. We bought the woman out of Mangos, Honey and other treats. She even made a fresh batch of Chow just for us.
After this late lunch it was time for some more exploring. We headed south to the coast of Trinidad overlooking the channel between Trinidad and Venezuela. We paused to enjoy the water and rest a bit before continuing to the Mud Volcano nearby. The Volcano was located down a dirt road with a short muddy trek thru the bush.
We then turned north for home. Stopping along the way for BBQ Chicken and Port and many local sweets. The day finished with home made ice cream in Port of Spain.
---
A classic Tour (October 2018)
We start the morning in Chaguaramas. The morning starts early as Jesse picks up folks at their boatyard entrances. It's best if you don't eat breakfast prior to coming. The maxi taxi is now transformed into a gourmet foods on wheels while traveling the country side with stops along the way of a variety of restaurants, fruit and vegetable stands with takeout delights by the road side.
Breakfast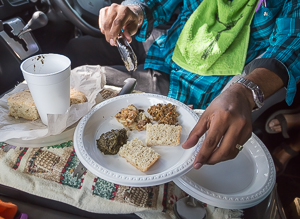 Breakfast starts off with some smoked herring, salt fish, soft cheese paste and a nice little roast bake, that is like a roll. Your plates are seldom empty as they will be in your lap during most of the journey trying samples at every stop along the way. While en-route, we are being served with Bean Bodi, complimented with some corned beef and a fried bake. Bean Bodi is cut string beans cooked in spices with a bit of curry and pepper flavor to it. A fried bake is a flat disc shaped bread that is fried in oil to a golden brown. It can be cut in half to put your Bodi inside. Kind of like a sandwich if you wish or served to the side.
The first stop is in Carenage. Carenage is the next town adjacent to Chaguaramas and offers many conveniences such as health center, supermarket, stores, restaurants, ATM banking, gas, and shops close to cruisers in the Chaguaramas area. We step out of the van to find a vendor on the road side with an umbrella and food containers of the famous Doubles. If you've never had Doubles you're in for a treat. They are double warm soft bread rounds filled with a chick pea filling and sauces flavored in cucumber sweet sauce, Cilantro also known as Beni and pepper sauce, if you so desire. They're served wrapped in paper and placed in a small brown bag to go. It's finger licking with Doubles as they can be saucy holding them. It is an acquired art to eat a Double without wearing it.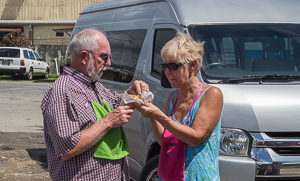 Port of Spain
We continue east, on the Western Main road, our next stop is Port of Spain. Port of Spain is the Capital City of Trinidad and Tobago. The City bustles with highways, shopping malls, businesses, buses, and busy people. It's the main port and hub of transportation. At or our next food stop, we enjoyed some Saheena, Callaloo Root and split peas. They are delicious with all the spices. Saheena is made with split pea powder and flour combined with chopped Dasheen (a green leaved vegetable also known as Callaloo originating from west Africa) saffron and spices rolled into a round ball then fried and complimented with sauces like a Tamarind sauce or pepper sauce to add flavor. Callaloo can be found in your markets and produce section of the grocery store.
People immigrated here to Trinidad bringing with them their own foods and cultures. The resulting mix has produced a unique fusion of tastes. Ameri-Indians were originally in Trinidad. The African slaves brought here as workers for cocoa, sugar cane and Rum, had their own unique foods. These were blended under the influence of the British, Spanish and Dutch. The India indentured servants, brought to replace the slaves, came with many unique Indian dishes. All these cultures blended together have produced a multi cultural flavor base of spices reflected in the foods unique to Trinidad. Many foods and spices vary from village to village.
Heading East
Moving on we take the Eastern Main Road. We're driving across the country west to east along the base of the Northern Mountain Range. Our destination is the east coast for lunch. Jesse had more food for us in mind before lunch, however.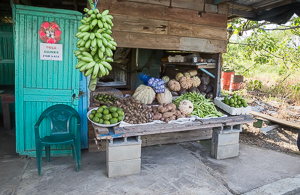 Along our way we stopped in the towns of Valencia and Sangre Grande. We learned the history of Sangre Grande which stands for a river of blood seen in the streets when Spanish soldiers slaughtered the village of Ameri-Indians many years ago. There, we sampled sada roti, baigan choka, potato pie, cow heel soup, coconut pie and Gnipe. Sada roti is a plain roti, made of white flour. Because it is the simplest roti to make, it is the most commonly consumed roti in Trinidad. Baigan choka is a robust flavored Trinidadian side dish or vegetarian spread for flatbreads made from eggplant. As we were traveling, we stopped by a fruit and vegetable stand where we sampled custard apple, three types of bananas and a strange looking shell that houses the Brazil nuts. Driving along, Jesse is speaking the whole time about the culture, the food, the history of the towns, and people.
Lunch on the Beach
We stopped at the beautiful Manzanilla Beach for lunch. This is across the island, from where we began, on the Atlantic Ocean side. Lunch at the beach was surrounded by the beautiful waving palm trees and soothing sound of the ocean waves. Lunch was Paloe, Macaroni pie, Sasheen with stewed pork. Most of us on the tour are pretty much full by now.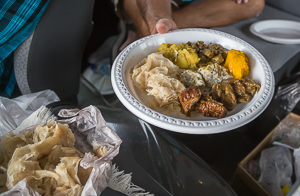 Enjoying the beach and the facilities there was lovely. With our group hopping back into the Maxi Taxi van, we started driving on down the east coast area of Trinidad. Heading south, we pass the Nariva Swamp to the right and the ocean to the left with only a narrow strip for the road in the middle. The swamp drains in several rivers into the Atlantic Ocean and the area is pristine with beauty. Mangrove trees in the river are rooted well into the riverside before the river winds into the Atlantic Ocean. There are a few places with local watermelon stands catering to folks driving through. The area there is known for growing watermelons. So we have to make room in our bellies for watermelon as we stop at a watermelon stand that Jesse knows.
Jesse knows many of the folks we visited along the way, as he's been here all his life and grew up in one of the small towns of Trinidad. People along the way all look for Jesse, because they know him and he knows them. This makes the trip a very personal and friendly experience.
Turning Back West Again
Leaving the watermelon stand, we drive south through Mayaro where we turn west, leaving the Atlantic behind. Our route follows the crest of the Central mountains (hills). Sampling beverages, we had the Mauby drink made from bark of a tree and Sorrell (Hibiscus) drink with ginger. Refreshing and delicious, these drinks are found in the coolers of restaurants and shops and are made here in the West Indies. Another delightful flavor drink was the creamy Peanut punch.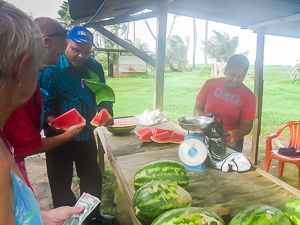 Dinner
Moving into the courses for dinner, we stop in Rio Claro for fried chicken with a flavor contagious you can't stop at one piece. In Tabaquite there's Harry's Water Park. A lovely area well suited to stretch our legs and choose our beverages of our own choice at the bar there. The park area was closed at the time, however the park seemed delightful for any child and family for entertainment activity. Getting back into the van, headed west, our group traveled on to Grand Couva. There was more flavorful fried chicken made a bit different than previous and equally as flavorful. Finger licking good for sure.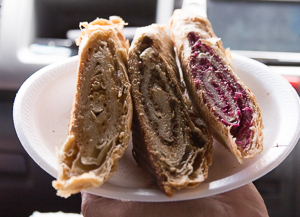 Of course you can't have all the course of food with out something sweet. Next visit was a Bakery in Presal where we had mouth watering Ballerina slippers, coconut cake, and layered sweetness of pastries. By now the day is turning to dusk as we drive down to the main highway to the west side of Trinidad and begin our journey back. Of course you can't not end the evening with out Ice cream. Completing the loop, we ended our Taste of Trini with a flavored variety of unique ice creams that left us full and satisfied after a long day.
Definitely a Taste of Trini is a trip to remember. Meeting new friends, experiencing the culture and the tremendous variety of Trinidad Tastes are shared during the tour. Jesse was a wonderful host with a friendly relaxed informative loop around Trinidad.
---
Some of the Uniquely Trini Foods
Doubles
Doubles is a common street food originating in Trinidad and Tobago of Indian origin. It is normally eaten during breakfast, but is also eaten occasionally during lunch or as a late night snack and popular hangover food for local Trinidadians. Wikipedia.
Main ingredients: Curry chickpea and bara. Served with: various chutneys, kuchela, and pepper sauce. Unless you are used to Trini hot pepper sauce you might start with slight pepper.
Roti
Wrap roti, often referred to as a roti, is a popular food in the Caribbean, and consists of curried or stewed meat and or vegetables folded tightly within a dhal puri or paratha roti. The items placed inside of a wrapped roti are commonly called tarkari in Trinidad and Tobago. Popular items that are eaten in a wrap roti are: curried chicken, curried duck, curried potatoes, pumpkin, and stewed chicken.
Roti is eaten widely across the Caribbean, especially in countries with large Indo-Caribbean populations such as Guyana, Trinidad and Tobago, and Suriname. Originally brought to the islands by Indentured laborers from South Asia, roti has become a popular staple in the culturally rich cuisines of Guyana, Suriname, Trinidad and Tobago, Grenada, and Jamaica. In the West Indies, roti is commonly eaten as an accompaniment to various curries and stews. The traditional way of eating roti is to break it by hand, using it to sop up sauce and pieces of meat from the curry. However, in the West Indies, the term "roti" may refer to both the flat-bread itself as well as the more popular street food item, in which the roti is folded around a savory filling in the form of a wrap.
The "roti wrap" is the commercialization of roti and curry together as a fast-food or street-food item in the Caribbean. This wrap form of roti originated in Southern Trinidad. It was first created in the mid-1940s by Sackina Karamath, who later founded Hummingbird Roti Shop in San Fernando, Trinidad and Tobago. The wrap was convenient as the meal could be eaten faster and while on the go, as well as keeping one's hands from getting dirty. In Trinidad and Tobago, various wrapped roti are served, including chicken, conch, goat, beef and shrimp. Vegetables can also be added including potato, pumpkin, and spinach as well a variety of local condiments; pepper sauce (hot sauce) and mango chutney are the most popular.
The roti wrap quickly gained popularity across the island and spread throughout the rest of the Caribbean. "Roti shops" are now abundant in Trinidad and Tobago and the wrapped roti is a staple street food. The wrap is now simply referred to as wrap roti or just roti. As Indo-Caribbeans moved to North American cities such as Toronto, New York, Fort Lauderdale, Miami, Orlando, and Montreal, they exported with them the wrapped version of roti. This iconic version is what most North Americans know as roti. The growth in popularity has recently led to referring to the flat-bread itself that surrounds the filling as a "roti skin" or "roti shell." This practice is now common in both restaurants and commercial companies.
Various types of roti are eaten throughout the West Indies. It is most prominently featured in the diets of people in Trinidad and Tobago, Guyana, and Suriname. West Indian style roti is primarily made from wheat flour, baking powder, salt, and water, and cooked on a tawa. - Wikipedia.